December 6-10, 2018 in Cancun, Mexico
#KHADE2018
Kizomba Harmony African Dance Experience:
Cancun
Kizomba Harmony African Dance Experience: Cancun is the first dance festival of its kind combining world-class dance instruction and equally world-class DJs with an emphasis placed on learning of African dance and culture while promising a fun party atmosphere all at a vacation destination within an all-inclusive resort setting!
#KHADE2017 was a GAME-CHANGER
#KHADE2018 will be an INTERNATIONAL LIFE-CHANGING EVENT!
Kizomba Harmony African Dance Experience is bringing you the best in Kizomba, Semba, Urban, Afro Rhythms, and more! World-class instructors, DJs, and performing artists, great people, and an all-inclusive vibe is what you all will be enjoying this December in Cancun!
Master Your Dance Teacher Training and
Urban Specialty Course
Check out the amazing schedule we've got lined up for you guys this year! Hover (or press and hold on mobile) to zoom in on the schedule below!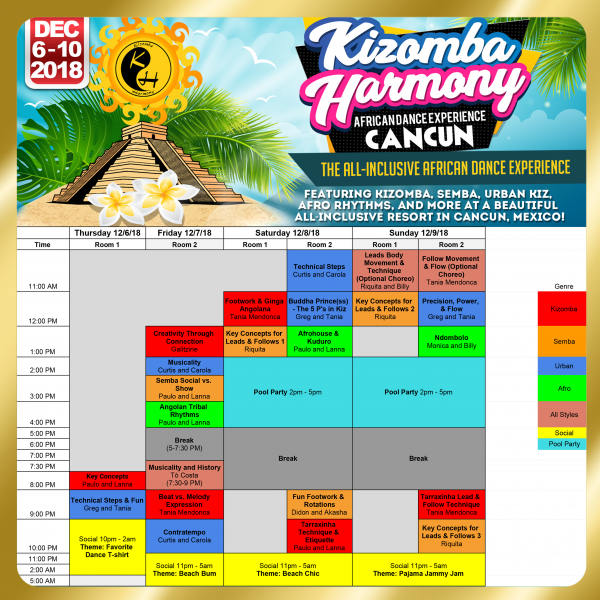 #KHADE2018 Venue
The Krystal Cancun
Learn more about the #KHADE2018 venue, the gorgeous all-inclusive resort Krystal Cancun!
Purchase
Event Passes for #KHADE2019
Purchase Event Passes and Teacher Training Below!
Fill out the form below to be the first to hear about KHADE updates and special offers!